Post by TsarSamuil on Jun 1, 2009 16:43:29 GMT -5
📌
EDIT IN 2017
Leading party says Soros prepares "Libyan scenario" for Ukraine.

RT.com
14 Apr, 2011 07:39

Ukraine's leading political party has said that the international financier George Soros has been preparing a "Lybian scenario" for the country.

The head of the Party of Regions parliamentary faction Aleksandr Yefremov said in a televised comment on Wednesday that he had information that George Soros had allocated funds for the overthrow of the Ukrainian political authorities.

"I even have information that Soros has allocated certain funds in order to prepare a certain group of young boys here in Ukraine who could launch any existing projects based on the North Africa examples," Yefremov said. He also added that he hoped that the Ukrainian people will be wise enough not to follow such provocations.

The information about George Soros's involvement in Ukrainian politics was openly voiced by Yulia Timoshenko in 2008. Timoshenko, then the country's prime minister, said that she was attempting to minimize the effect of the global financial crisis by following George Soros's advice. This raised suspicions that through such advice George Soros could influence the rate of the Ukrainian national currency in his own speculative interests. Several officials from president Yushchenko's administration said they wanted to launch a probe into Soros' Ukrainian activities, but it did not happen.

It was only in 2010 that the Ukrainian State Security Service started to check the activities of the Vozrozdeniye foundation, officially sponsored by Soros, and its ties with other Ukrainian NGOs, but this probe gave no feasible results.

The Soros Foundation reacted to Yefremov's statement almost immediately and refuted all accusations. The foundation said in a special statement that all funds allocated for Ukrainian programs are being spent on the development of the open and democratic society and also for helping Ukrainian citizens, who suffered from the effects of the international financial crisis.

The statement also said that the accusations of funding some antigovernment activities should be backed by proof and that the policy of the foundation was maximum transparency that left no room for such criticism.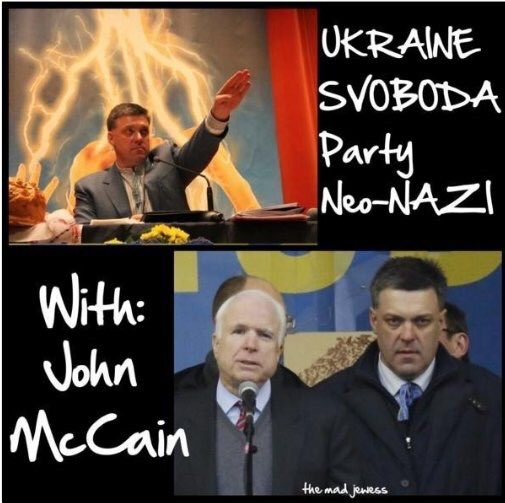 Longtime Ukrainian political rivals close to deal: report
Sun May 31, 1:21 pm ET
KIEV (Reuters) – Ukrainian Prime Minister Yulia Tymoshenko and former premier Viktor Yanukovich, longstanding rivals, are on the verge of clinching a deal to form a "broad coalition" in parliament, Ukrainian media reported on Sunday.
Talks between groups led by the two politicians have taken place intermittently for more than a year amid recurring bouts of the political upheaval that have buffeted Ukraine since the 2004 "Orange Revolution" brought pro-Western leaders to power.
The authoritative Internet news service Ukrainska Pravda quoted its sources as saying the leaders, the country's two most popular politicians in the run-up to a presidential election, had reached a "preliminary agreement" on Saturday.
The deal called for forming a coalition, drafting a programme of common action until 2024, including running jointly in parliamentary elections, and altering the constitution to have the president elected by parliament.
Interfax Ukraina news agency said consultations were proceeding, with a deal expected within days. "Everything could be decided today or tomorrow," Interfax quoted a source as saying. "The issue is providing guarantees for the two sides."
There was no comment from either Tymoshenko's bloc or Yanukovich's Regions Party. Nor was there any comment from President Viktor Yushchenko, whose standing lies in tatters more than four years after the mass "orange" rallies in his favor.
PREMIEr, PRESIDENT AT ODDS
Tymoshenko was allied to President Viktor Yushchenko in the 2004 mass "orange" rallies against election fraud and was named premier by him twice, but the two have been constantly at odds.
Yanukovich was the revolution's main loser.
Initially declared the winner of the 2004 presidential poll, he lost a re-run election to Yushchenko after the result was overturned. He returned as premier for a time in 2007 after the collapse of an "orange" government.
Russia backed Yanukovich in 2004 and has been irritated with Yushchenko, especially his drive for Ukraine to join NATO and his denunciations of Moscow's intervention in Georgia last year.
Moscow has developed better ties with Tymoshenko after a spat over a plan for the EU to upgrade Ukraine's gas transport system.
Tymoshenko and Yanukovich have a long history of hostility, at least in public. It is unclear whether they could overcome differences and produce the stability long sought by the European Union after more than four years of political sniping.
The current premier is a vocal defender of disadvantaged voters and draws much of her support from nationalist western Ukraine and the center of the country. Yanukovich's electoral heartland lies in the Russian-speaking industrial east.
The two sides have voted tactically together, mainly to counter Yushchenko's interests.
Yanukovich leads polls with over 20 percent, while Tymoshenko, hit by the effects of economic crisis, stands at about 15 percent. Yushchenko lags far behind in single figures.
Parliament set the next presidential election but October 25, but that ruling was struck down and a new date must be set.
(Reporting by Ron Popeski; editing by Myra MacDonald)