Post by TsarSamuil on Oct 12, 2020 17:01:09 GMT -5
Turkey's Erdogan accuses Greece of 'sowing chaos it can't escape from' in Mediterranean.
RT.com
24 Aug, 2020 22:09
Turkish President Recep Tayyip Erdogan has accused neighboring Greece of "sowing chaos" in the waters of the Mediterranean Sea, contested by the two nations based on overlapping natural resources claims.
Speaking after a cabinet meeting on Monday, Erdogan blasted Athens for broadcasting maritime navigational and weather advisories, known as Navtex, in areas of Mediterranean claimed by Ankara.
Greece has declared its own Navtex unlawfully and in a spoiled manner...With this approach, Greece has sown a chaos that it will not be able to escape from.
Turkey's president also claimed that the Greek activities in the area are encouraged by third-party countries, who he said will not help Athens in the event of an open conflict with Ankara.
"The ones who throw Greece in front of the Turkish navy will not stand behind them," Erdogan added, without mentioning any foreign actors in particular.
Greece's Navtex advisory for the area expires this Thursday, Greek government spokesman Stelios Petsas said. The advisory spans over the same period as the Turkish oil exploration mission of its Oruc Reis survey ship, backed up by several military vessels. That mission, originally intended to end on August 23, was recently extended to August 27.
"Greece is responding calmly and with readiness both on a diplomatic and on an operational level. And with national confidence it does everything needed to defend its sovereign rights," Petsas said.
The waters of the eastern Mediterranean have been especially hot lately, as the two NATO allies sent military flotillas to the contested area, close to a Greek island off Turkey's southern coast.
Ankara has laid claim to the waters after striking a maritime agreement with the UN-backed government of war-torn Libya, yet this was rejected by Greece and other nations, with another NATO ally, France, even sending it its own naval forces to support Athens in the ongoing standoff.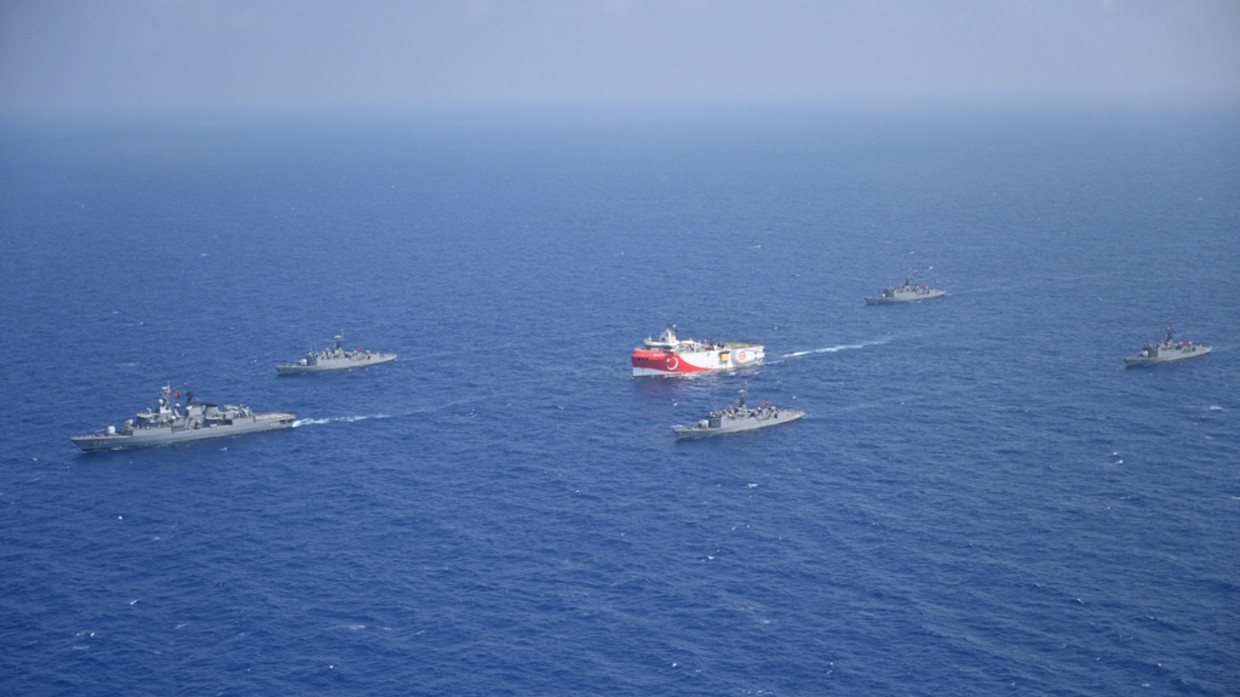 'An unwise move': Berlin warns Ankara over fresh exploration activities in contested waters of East Mediterranean.
RT.com
12 Oct, 2020 16:17
Renewed hydrocarbon exploration in disputed waters would be an "unwise" move by Turkey, a German government spokesman said as Ankara prepares to send its research vessel to conduct seismic studies yet again.
The spokesman for the federal government, Steffen Seibert, was quoted by German media as saying Ankara's decision to renew seismic surveys in the disputed area would set back efforts to establish talks between Turkey, Greece and Cyprus, and "would certainly be anything but conducive to the further development of EU-Turkey relations."
It would be an unwise move for Turkey to begin exploration in a disputed area again.
The comments follow Turkey's announcement that maintenance was completed on research vessel Oruç Reis and it would restart exploration in the contested waters until October 22. Earlier this month, the EU said it would punish Turkey if it continued exploration activities in the contested waters.
The Oruç Reis has been a considerable source of rising diplomatic tensions between Greece and Turkey in 2020. Ankara withdrew the vessel in mid-September, ahead of an EU summit on eastern Mediterranean issues.
Progress appeared to be near as Greek and Turkish foreign ministers met last Thursday on the sidelines of a security conference in Slovakia. It was the first time the ministers had met since the crisis began and both sides looked in good spirits as they agreed on future "exploratory talks."
Reacting to the move on Monday, the Greek Foreign Ministry described the development as a "major escalation" and a "direct threat to peace in the region."
---------------
Washington 'deplores' Turkey's 'calculated provocation' in the E. Mediterranean as Ankara renews seismic surveying.
RT.com
13 Oct, 2020 16:25
Ankara has been criticized by the US State Department for restarting hydrocarbon exploration in contested waters. Washington said the move "deliberately complicates" de-escalation talks between NATO allies Greece and Turkey.
In a statement released on Tuesday, State Department spokeswoman Morgan Ortagus said: "The United States deplores Turkey's October 11 announcement of renewed Turkish survey activity in areas over which Greece asserts jurisdiction in the Eastern Mediterranean."
Coercion, threats, intimidation, and military activity will not resolve tensions in the Eastern Mediterranean. We urge Turkey to end this calculated provocation and immediately begin exploratory talks with Greece. Unilateral actions cannot build trust and will not produce enduring solutions.
On Monday, the Turkish exploration vessel, Oruc Reis, returned to sea to continue carrying out exploration activities in the waters south of the Greek island of Kastellorizo until October 22. News of the vessel's redeployment drew condemnation from Athens.
Greece and Turkey had only last week settled on dates to renew "exploratory talks" over the ongoing dispute concerning the Eastern Mediterranean region, and to discuss "confidence building measures."
However, on Tuesday, Greece's minister of state told national radio that there would be no exploratory talks so long as the Oruc Reis survey vessel remained in contested waters. "Turkey is the side trying to establish a status quo using violence and threats," he added.
The Greek Foreign Ministry had already described the development as a "major escalation," while other European counterparts have weighed in to support Greece. Earlier in October, the EU claimed it would continue to punish Turkey if it maintained its exploration activities in the disputed waters.