Post by TsarSamuil on Oct 21, 2018 9:09:06 GMT -5
Nonsense, too many have passed the border..stop praising yourself and put the army at the whole border permanently!
PM Borisov was Congratulated on the Way Bulgaria Protects Borders at Brussels Summit.
Novinite.com
Politics » BULGARIA IN EU | October 19, 2018, Friday // 09:20
Migration pressure on our country is now coming from the Greek border. Prime Minister Boyko Borissov said in Brussels at the summit dedicated to migration on 18th of October. He said that Bulgaria had returned by airplanes nearly 3,000 Afghans, who illegally arrived in Bulgaria. European leaders have agreed on a comprehensive and more flexible approach to migration, with each country contributing to whatever it can do to deal with it. According to Borissov, Bulgaria contributes to the safeguarding of the EU external border, reports BNT
Countries remain divided on how to reallocate migrants within the European Union. According to Boyko Borissov, there are three groups of states - some which are strongly opposed to the admission of migrants, the second, which agree, but under certain conditions, and third who suffer the most from the migration flows and insist on more solidarity from Europe.
The meeting also discussed the great importance of concluding agreements with third countries, mostly from North Africa. Today, except for Egypt, there were talks about Morocco.
Boyko Borissov himself announced that he will visit Egypt next Tuesday and hold high-level meetings.
Boyko Borissov: On Tuesday, at the highest level, we will hold meetings in Cairo on all these topics, which should be considered in two aspects. It would not be pleasant to any country if you say - we give you migrants we pay for. On the contrary, there must be investment and development, and they must show solidarity about the money they receive, andr keep people in their own territory, because there are five million migrants in Egypt.
At a summit in Brussels, EU Heads of State and Government on 18th of October discussed migration and security. Bulgaria's Prime Minister Boyko Borissov once again received congratulations on the way Bylgaria protects the external borders of the community.
--------------
Grooming gang, whose court cases were protested by Tommy Robinson, jailed for 221 years.
RT.com
19 Oct, 2018 14:27
A grooming gang, whose court hearings were protested by EDL-founder Tommy Robinson, have been given jail terms totaling 221 years after launching a "campaign of rape and other sexual abuse" against teenage girls in Huddersfield.
The 20 men whose ages range from 27 to 54 were convicted as part of Operation Tendersea during three trials at Leeds Crown Court.
Details of the case can now be disclosed after a judge agreed to lift reporting restrictions on Friday.
It was the second of these trials that saw EDL-founder and self-styled journalist Robinson film outside the court, while the jury was deliberating.
The abuse of 15 schoolgirls by the gang was described by the judge as "top of the scale." The youngest of the victims, who were characterized as vulnerable and isolated, was thought to have been 11 or 12-years old. Some of the underage girls were in care and suffered from mild learning disabilities.
The gang carried out the sexual abuse in the Huddersfield area between 2004 and 2011. The men assigned themselves a series of nicknames which they used while communicating with each other. They included "Dracula," "Beastie" and "Nurse."
Judge Geoffrey Marson QC, sentencing 16 of the men earlier this year, said: "The way you treated these girls defies understanding; this abuse was vile and wicked.
"As cases of sexual abuse with which the courts have to deal, this case comes top of the scale."
The gang ringleader Amere Singh Dhaliwal, 35, was jailed for life with a minimum of 18 years at Leeds Crown Court.
Dhaliwal, a married father-of-two, was told by the judge: "The extent and gravity of your offending far exceeds anything which I have previously encountered.
"Children's lives have been ruined and families profoundly affected by seeing their children, over months and years, out of control, having been groomed by you and other members of your gang."
The court heard how the girls were lured in with gifts including food, cigarettes or lifts; and then plied with drink and drugs.
The victims were sexually abused in houses, cars, car parks, a takeaway, a snooker center, and in a park. The abusers sometimes used plastic bags as condoms.
Robinson, whose real name is Stephen Yaxley-Lennon, was given a 13-month sentence in May for breaching contempt of court laws outside of Leeds Crown Court. He was arrested after confronting defendants while recording a live video on Facebook as they entered the Leeds courthouse to face trial over sexual abuse allegations.
Robinson's conviction was later quashed. The case is due to be heard again at the Old Bailey next week.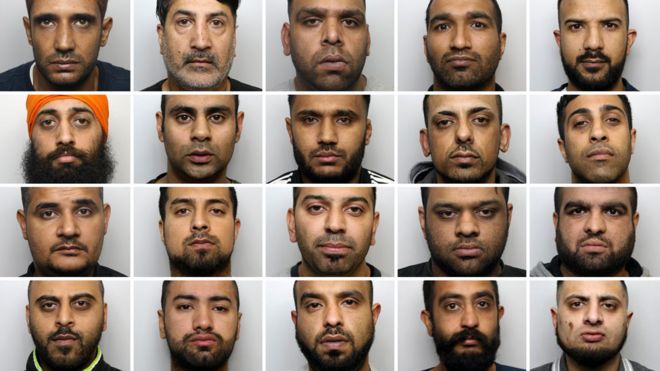 The men, all from Yorkshire, went by nicknames including "Dracula", "Bully", "Beastie" and "Nurse"
--------------
In order to not arrest so many 'cultural enrichers' like those in the story above..police work will be expanded, according to UK Pakistani minister..
Ageism and misogyny could become hate crimes in UK, but police are wary.
RT
Oct 19, 2018
In a bid to protect British values, the UK Home Secretary has launched a review into hate crime legislation. He wants to expand the law to protect more vulnerable sections of society, but as Polly Boiko reports not everyone is happy with the idea.