Post by TsarSamuil on Apr 29, 2014 14:00:27 GMT -5
rt.com/news/155156-pope-double-canonization-vatican/
Hundreds of thousands gather to witness historical double canonization of popes.
RT.com
April 27, 2014 19:32
About 800,000 pilgrims have flooded the streets of Rome to witness a historic ceremony of canonizing two prominent Roman Catholic popes of the 20th century - John Paul II and John XXIII.
"We declare and define Blessed John XXIII and John Paul II to be saints and we enrol them among the saints, decreeing that they are to be venerated as such by the whole church," said Pope Francis in the official homily at about 10:15am local time (09:15 GMT) in St Peter's Square, Vatican.
Pope Francis also called John XXIII "the pope of openness to the Spirit" for having allowed himself to be led by God when he called for the Second Vatican Council, essential meetings known for their renewal of Catholic doctrine in modern history, and he described John Paul as "the pope of the family" for his focus on family issues.
"John XXIII and John Paul II cooperated with the Holy Spirit in renewing and updating the church in keeping with her pristine features, those features which the saints have given her throughout the centuries," Pope Francis said.
He added that the newly canonized popes "lived through the tragic events of [the 20th] century, but they were not overwhelmed by them."
Their relics, a container of blood from John Paul II and a piece of skin from John XXIII, were carried to the altar.
Meanwhile, previous Pope emeritus Benedict XVI, who was the first pontiff to step down in 600 years, joined the ceremony, along with hundreds of bishops and cardinals.
Though Benedict XVI promised to stay "hidden from the world" after his resignation in March, 2013, Francis persuaded him to take part in the ceremony.
The commentators called the event a "four-pope day" meaning that four popes were present at the ceremony, two living Francis and Benedict XVI and two canonized John Paul II and John XXIII.
This is the first time two living popes celebrate mass together and the first time two Catholic Church leaders are made saints on the same day.
Thousands of people followed the ceremony relayed in different languages on 18 giant screens set in different locations in Rome. The event was also shown in 3D at hundreds of cinemas across the world and was tweeted live by the Vatican's vicariate of Rome under the hashtag #2popesaints.
"We are followers of all four popes who have all been close to the people. This is an historic day but one that you really feel inside," Luisa Tomolo, a member of an Italian religious movement, told AP.
The crowd was nearly half kilometer-long as it stretched back along all of Via della Conciliazione, boulevard in the center of Rome. One of the pilgrims was holding a banner saying "Two pope saints in heaven, two in St Peter's Square".
Meanwhile, some people waited for more than 12 hours along the main street before police opened up St Peter's Square at 05:30 a.m. local time (04:30 GMT).
Many world leaders also arrived to commemorate two prominent figures of Catholic Church.
According to Vatican's press service, at least 98 foreign delegations attended the ceremony.
High levels of security were reported. At least 10,000 police officers were patrolling the streets with 600 Red Cross volunteers.
'The shepherds of God's people'
One of the most influential figures, John Paul II, the Polish pope, helped topple Communism in Eastern Europe and improved the Catholic Church's relations with other religions, including Judaism, Islam, the Eastern Orthodox Church, and the Anglican Communion.
Known as the "Pilgrim Pope," he was the first to pray in a synagogue, to enter a mosque in an Islamic country and to preside over a meeting of leaders of all the world's main religions.
"For years Pope John Paul II took the Church to the ends of the earth and today the ends of the earth have come back here," Father Tom Rosica, head of Canada's Salt and Light Catholic television network, told Reuters.
John Paul II who survived an assassination attempt by Mehmet Ali Agca, a member of the militant fascist group Grey Wolves in 1981, led the Church for almost 27 years. His death in 2005 death gathered huge crowds on St Peter's Square chanting "Santo subito!" calling for him to be made a saint.
"John Paul was our pope," Therese Andjoua, a 49-year-old nurse who traveled from Libreville, Gabon, told AP. "In 1982 he came to Gabon and when he arrived he kissed the ground and told us to 'Get up, go forward and be not afraid.'"
However, Pope John Paul II drew sharp criticism for his failure to tackle child sex crimes by priests which became a wave of scandals at the end of his term. The acceleration of his sainthood, the fastest since the 18th century, was also considered controversial.
Another canonized Pope, John XXIII, an Italian, known as the "Good Pope" due to his friendly character is famous for launching a process of reform of the Catholic Church in 1962. An advocate for human rights, he often expressed his views on equality saying "We were all made in God's image, and thus, we are all Godly alike."
As an Apostolic Nuncio to France (envoy from the Roman Catholic Church), John XXIII saved thousands of Jews during World War II.
"I feel very happy because both of them inspire us," Father Emmanuel Emeka, a priest from Nigeria, told Reuters. "I think both of them have a lot to teach us."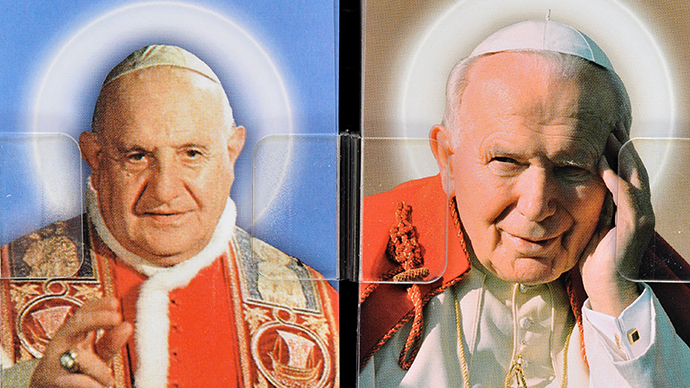 This picture taken on April 21, 2014 shows postcards depicting Pope John XXIII (L) and Pope John Paul II sold in a shop in central Rome. (AFP Photo / Tiziana Fabi)