Post by TsarSamuil on Sept 2, 2015 17:30:05 GMT -5
Russia celebrates 70th anniversary of Japan's surrender with military parades (VIDEO)
RT.com
2 Sep, 2015 19:35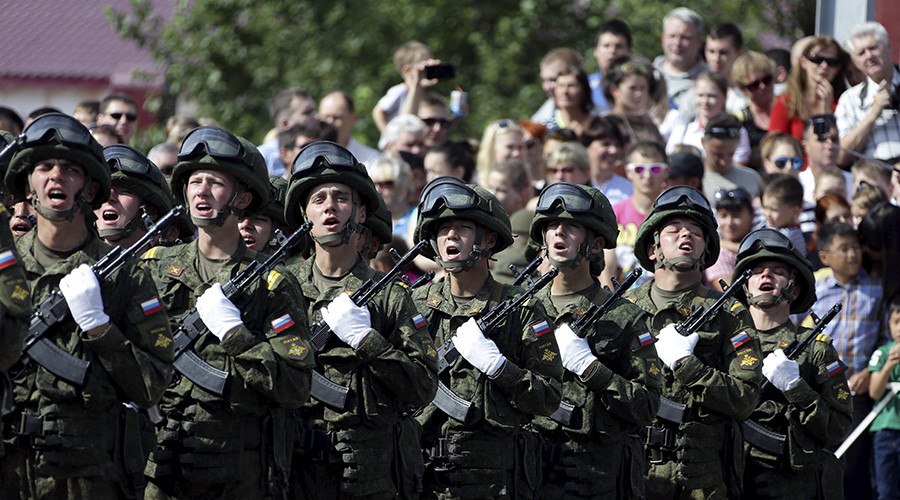 Russian servicemen march with their weapons during a military parade to mark the 70th anniversary of the end of the World War Two in the Far Eastern city of Yuzhno-Sakhalinsk, Russia, September 2, 2015 © Sergey Krasnoukhov / Reuters
Cities in Russia's Far East have held military parades honoring the 70th anniversary of Japan's surrender, which put an end to World War II.
The biggest parade took place in Chita where the headquarters of the Transbaikal Front (the army group that fought Japanese forces) was founded in 1941. Some1,700 troops and military school cadets, more than 50 vehicle units and military aircraft took part in the ceremony.
Along with modern military vehicles, spectators could also see the machines which were used in World War II.
"We are paying court to those who put an end to the World War II in the Far East," said Colonel-General Sergei Surovkin, who reviewed the troops.
The parade was visited by Russian President Vladimir Putin who thanked the veterans who fought against the Japanese Empire and honored the memory of dead Soviet soldiers at the local memorial.
Among the audience at the ceremony in Chita there were also veterans from China, Mongolia and a delegation of Cossacks from Australia, descendants of those who moved there from Russia in the early 20th century.
Another big parade was carried out in Yuzhno-Sakhalinsk, the biggest city of the Russian island of Sakhalin. The city, which was called Toyohara in 1905-46 while under Japanese control, witnessed hundreds of marching troops and various omilitary vehicles such as Soviet T-72B3 tanks and "Grad" and "Uragan" rocket systems.
In the Sakhalin port of Korsakov a navy parade took place in which a large landing ship, a guard guided-missile cruiser, a destroyer, a guided missile boat and a corvette took part.
Themed tours of battlefields were organized in the southern part of Sakhalin, which belonged to Japan during World War II. Commemoration ceremonies were also held in other eastern cities of Russia such as Vladivostok, Yakutsk and Khabarovsk where a memorial chapel of white marble was opened.
On September 2, 1945 Japan signed the Instrument of Surrender which was accepted by US General Douglas MacArthur aboard the USS Missouri.
More that 1.5 million Soviet troops fought against Japan in 1945 defeating its Kwantung Army, the empire's largest army group.